dmjewelle
Hello, I hope the last entry didn't crash your computers. Today is also a picture-heavy one, so if you're thinking OH GOD NOT AGAIN please feel free to skip this entry!
Also, today's entry will also feature some pictures by Doris because she has a superior camera.
After much meticulous planning the night before where we planned our trip, we started with St Mary's Hospital located just behind our hotels.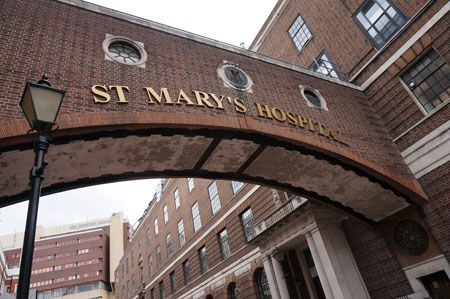 Why? Because we wanted to visit the Alexander Fleming Laboratory Museum!
The hospital has preserved the room where he discovered penicillin and since we'd love to say we owe our (stagnating) careers to this man, a pilgrimage was in order.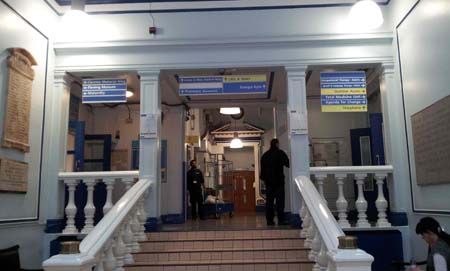 I need to point out this is still an actual hospital.
Asked the reception lady about buying tickets for the museum (£4 per entry) the lady said there was a special group tour today so it might be closed. We hadn't read about it online so an investigation was in order. The lady told us to inquire with the museum office.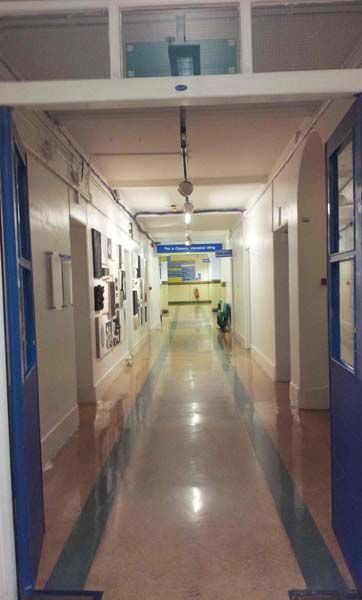 Sane tourists of the world, don't treat the hospital as a tourist destination. They have a chaplain and an interesting art therapy gallery but seriously, don't.
We followed the signboards (through more deserted corridors and stairs) and came to a tiny room crammed with about 15 students. Their lecturers stood outside, and invited us to join them. So we did.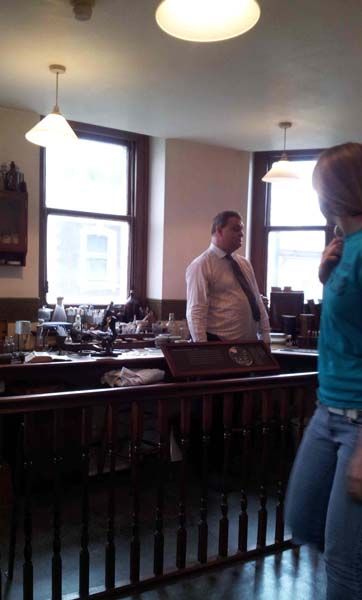 This is as close as you're getting to the room - photos aren't allowed. The man behind the railing was the guide who talked about Fleming's discovery and the subsequent penicillin craze during WW1?2? He was soft spoken and students kept rushing out for air (it was a very small room after all). The room was discovered about 20 years ago, and they recreated the room exactly as how Fleming had left it. What I do wonder is what was in the musty petri dishes they left at the side windows if this room's furnishings is as old as they claim it to be...
Later the students adjourned to watch a short film and the lecturers invited us to join, but we already had a free tour and it would be rude to leech further, so we politely declined and left.
Heehee old man pharmacy.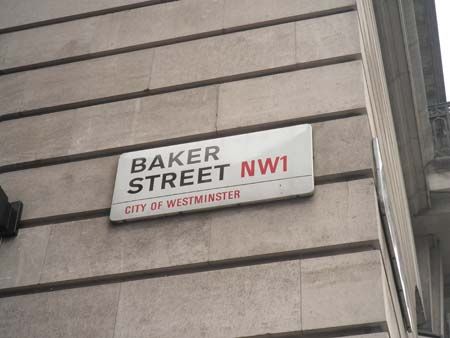 We bought tickets for the London Hop-on Tour Bus, and took it to Baker Street.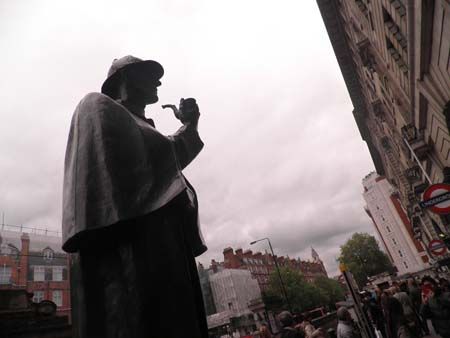 We are immediately greeted by the patron superhero of Baker Street, SHERLOCK HOLMES.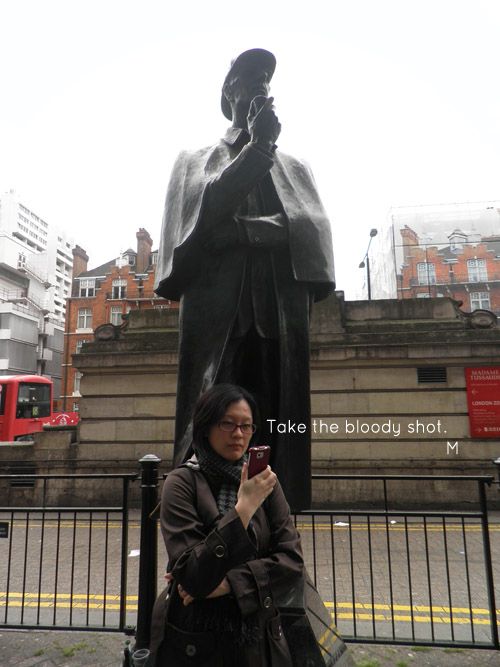 Obviously we must follow tradition and pose with it!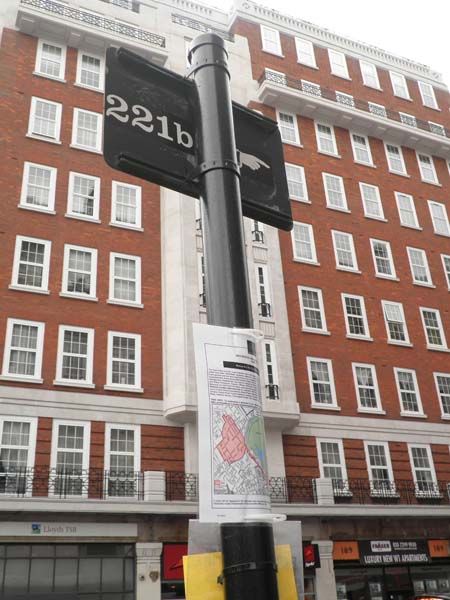 And if you want to locate Sherlock Holmes' house, there is no shortage of assistance to help you find it.
No, I don't know if his time machine is still there.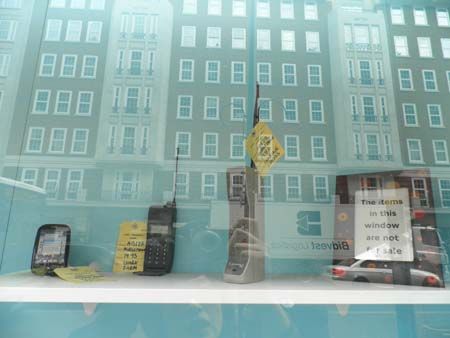 We passed by a lost & found shop - they tag and display the items lost over the decades, and the window displays aren't for sale. It's so near 221B it's like saying Sherlock Holmes helped find all these ownerless things and dumped them in one spot for easy finding!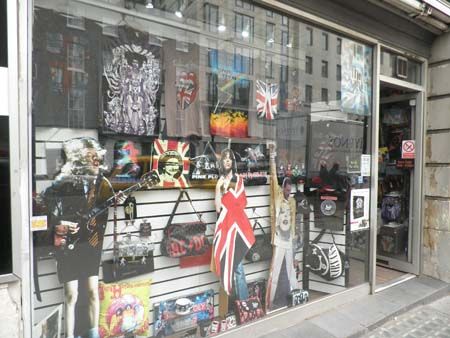 And since we're wallowing in pop culture already, let's throw in a Britrock shop for good measure!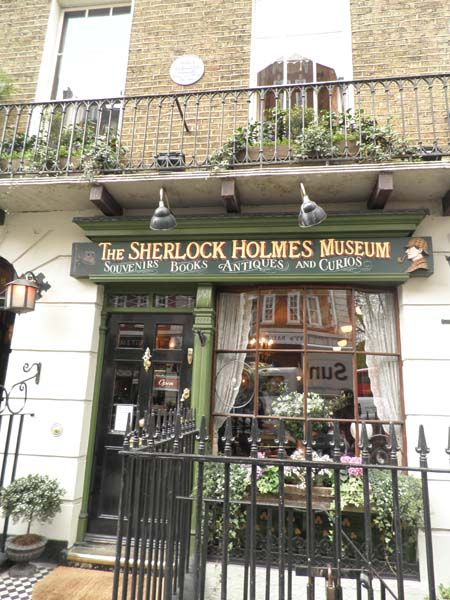 Welp, here we are at the SH Museum! Buy your entry ticket here! (£8/person)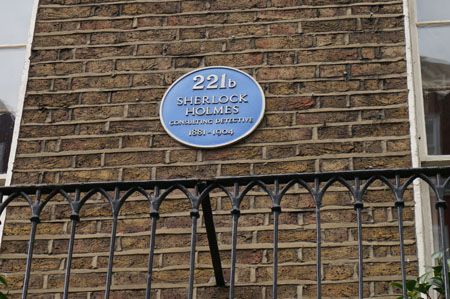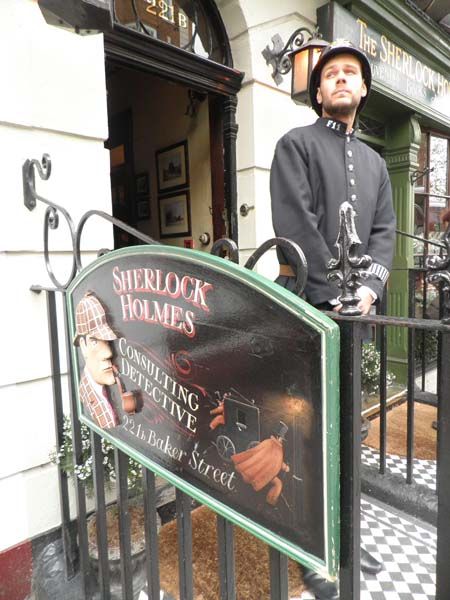 Since it's really small, they only let in a certain amount of people at any time. You'll have to wait your turn until the previous batch has cleared the house and...uh...dude, you're TALL. What are you, two meters? @_@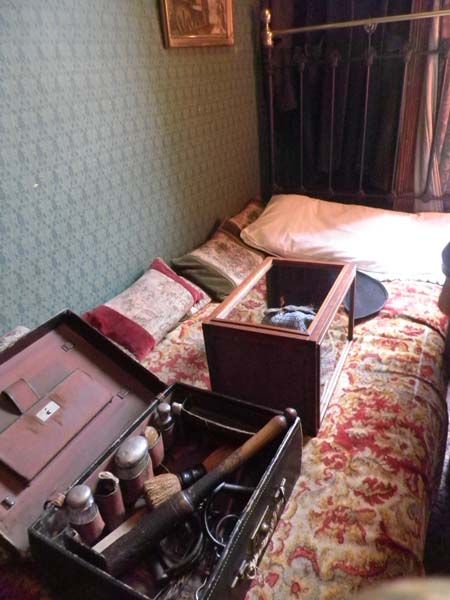 And we're in! Here's Holmes' bed!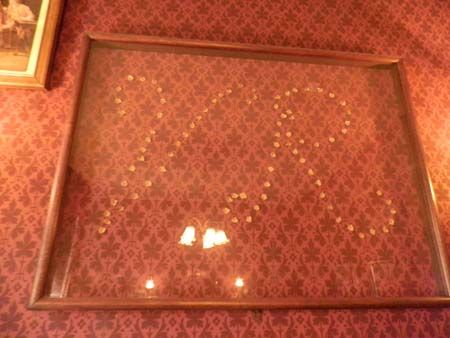 And his Victoria Regina guncraft!
And his various random crap! No I don't know if that violin is out of tune.
You can take the hats and pipe and magnifying glass and roleplay at the fireplace. The pic of me as Holmes and Doris as Watson didn't turn out so well, so you get role reversal instead! Don't think too much about how many heads have touched those hats, just enjoy the moment.
This is apparently part of Dr Watson's practice. It's a floor above Holmes' room, so I can't imagine what Watson's patients have to experience since they have to pass Holmes' room to reach the clinic. Or maybe that's why Watson never seemed to have patients when he stayed with Holmes.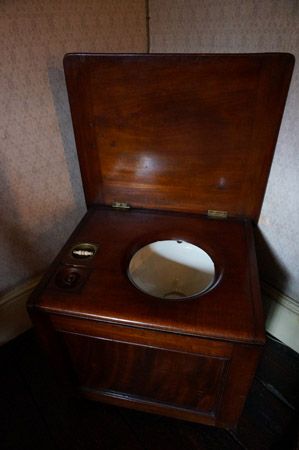 And there's a portable toilet in Watson's room...BECAUSE?
The next is floor is AAAAA HEART ATTACK x__x
Apparently they thought it was a great idea to cram 3-4 scene reenactments per room, and these rooms are SMALL!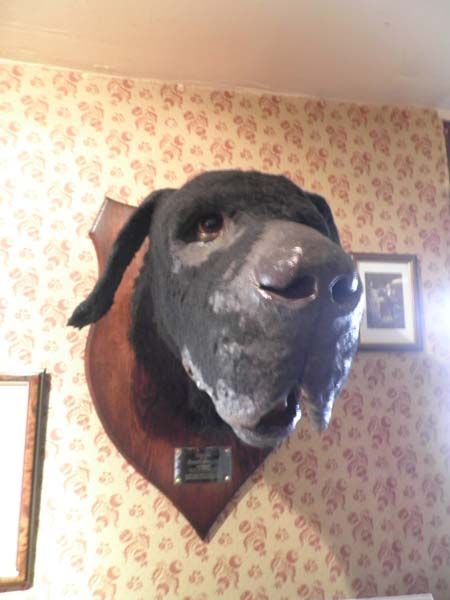 Oh how nice, they managed to mount the head of the hound of the Baskervilles!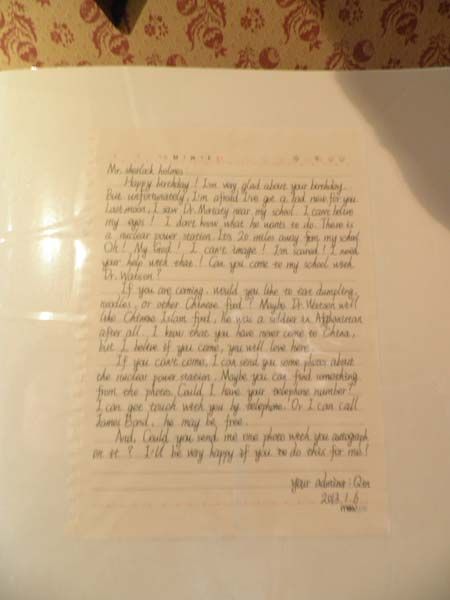 Among the many letters sent to Sherlock Holmes. Not even the BBC version has stemmed the letter barrage. An excerpt:
"If you are coming, would you like to eat dumpling, noodles, or other Chinese food? Maybe Dr. Watson will like Chinese Islam food, he was a soldier in Afghanistan after all. I know that you have never come to China, but I believe if you come, you will love here. Could I have your telephone number? I can get touch with you by telephone. Or I can call James Bond, he may be free."
Clearly the world has no shortage of deluded people even in 2013.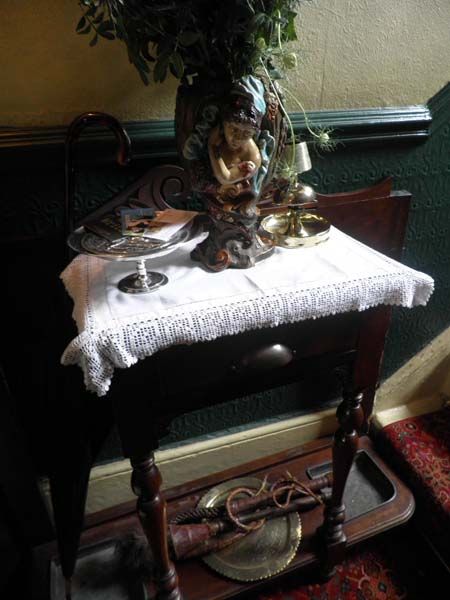 Fine here's your riding crop!
Going back to the souvenir shop I bought a fridge magnet, but if I had the money I would've bought a pipe, his tobacco blend, and this:
EEEE BEARLOCK HOLMES! X3 <3
The only thing that would've made it infinitely better would've been a Ducktor Watson, but we can't have everything. :( They also had DVDs of Sherlock Holmes movies, but BBC Sherlock is very much absent. They have the Robert Downey Jr version but not this? Is it a copyright thing? Determination to not have the entire museum Cumberbatched? I don't know.
As we headed out I overheard two ladies ask the guide how far was it to go to North Gower Street and he pulled out a map and said it was a 15-minute walk. Since we were also going there I asked the two ladies if they wanted to walk with us, and so the BCC Sherlock party walk began. The ladies were a mother-daughter pair from Utah named Tracy & Tiffany, and she was in London to celebrate her graduation before going for some internship at a financial firm. We talked about Sherlock, which also spills over to Cumberbatch, which then also covers Ben Whishaw (it appears that Cumberbatch fans gravitate to Whishaw) and just before it started drizzling...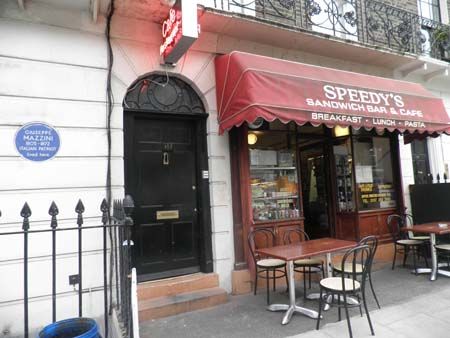 HERE WE ARE AT THE OTHER 221B!
It must suck to be Giuseppe Mazzini - he doesn't get a mention in the TV series for authenticity's sake.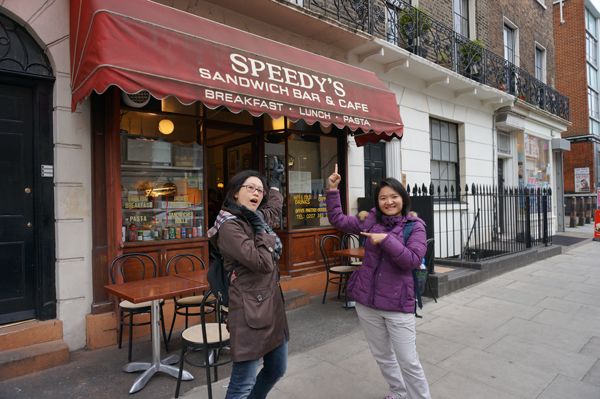 Pictures must be taken to commemorate the occasion!
Joy isn't without its heartache as I see this:
I would've SO come except I fly off on the 20th. F MY LIFEEEEEE TT_TT *shakes fist*
Since it was lunchtime, we joined the massive lunchtime crowd. Had a Speedy's breakfast which is like a normal English breakfast except it has beef.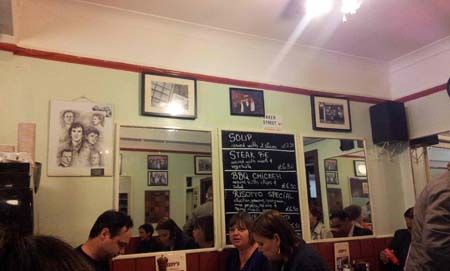 I must point out this cafe is TINY. You can barely move without bumping into someone.
Tracy (the mother) paid for our lunch and then we went our separate ways. I wanted to hunt for a haematology book so we headed further down Gower Street where University College London was located.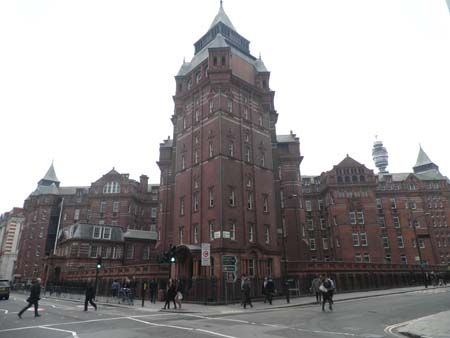 Nope, we're not in Russia. We're near my dad's old school.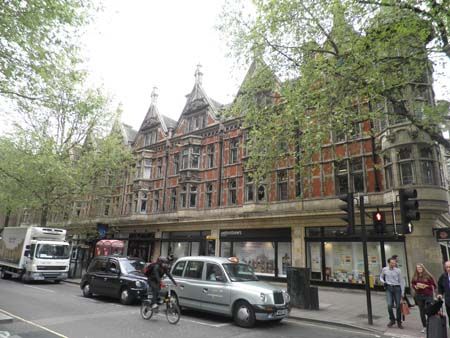 The Waterstones bookshop is 5 floors, the lower ground is for all the science and medicine books, and when I asked for the haematology books she just pointed me to a whole SHELF of them. The book I picked had a slightly ratty cover, and the cashier immediately gave 10% off. I love this country so much T_T They also have textbooks for phlebotomy which blew my mind - we're talking full-colour 200-pages about where and how to take blood and all the tubes available in the world and the order you take them. My phlebotomy training is a continuous period of trial and error, Doris's training took a day and an ORANGE...I'm curious how they train UK phlebotomists now.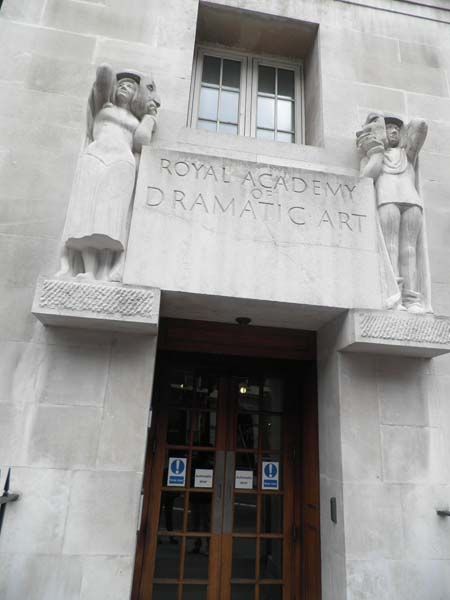 Walk down and you'll pass Ben Whishaw's old school.
Walk further down and you'll feel anaesthesia and dentistry in the air.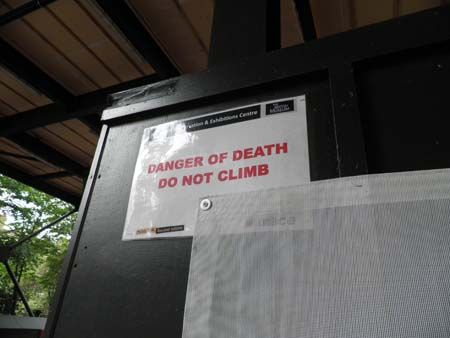 Walk further further down and you'll be presented with this hilarious warning.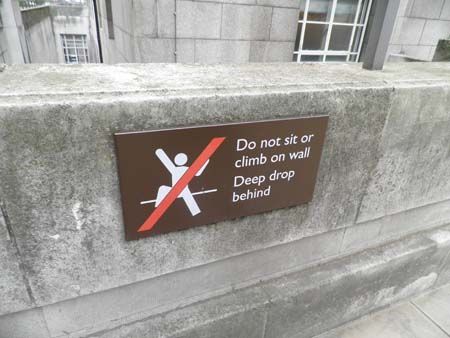 Walk a few steps further down and you'll get another hilarious warning. Note: It really is a deep drop. We looked.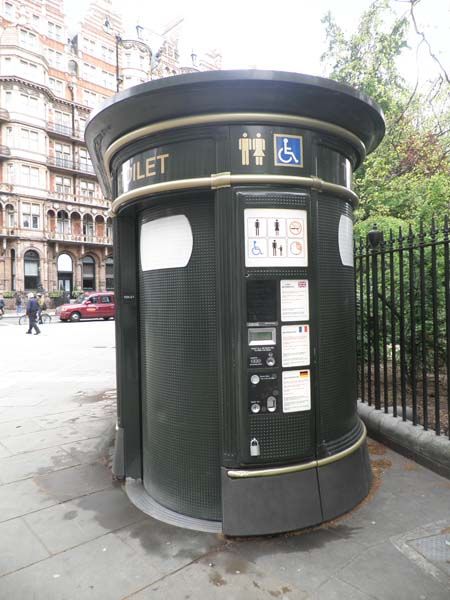 Walk towards Russell Square and you'll see this public toilet. I did not try it for I doubt anything will ever match the superiority of Japan's automated toilets.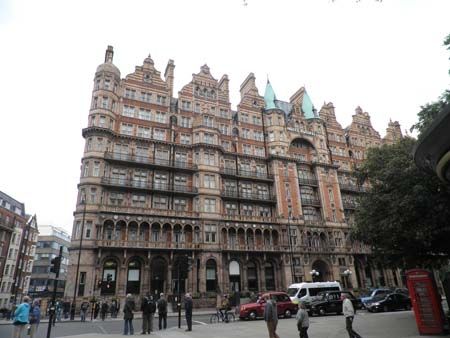 From here we take the bus to an interchange (and got a good nap out of it), and then we continue the hop-on tour with live guided commentary.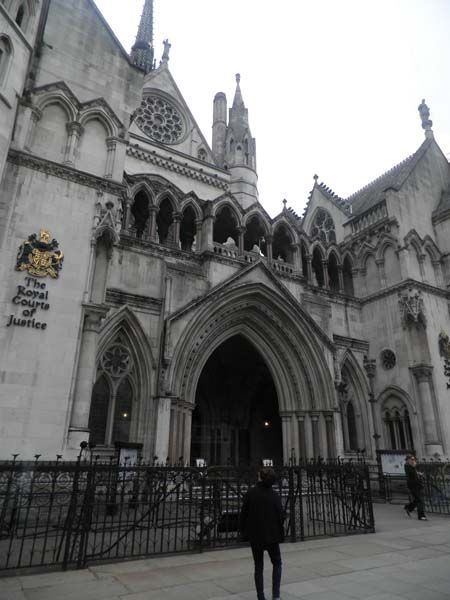 Guide: This is where you come to sue the newspapers.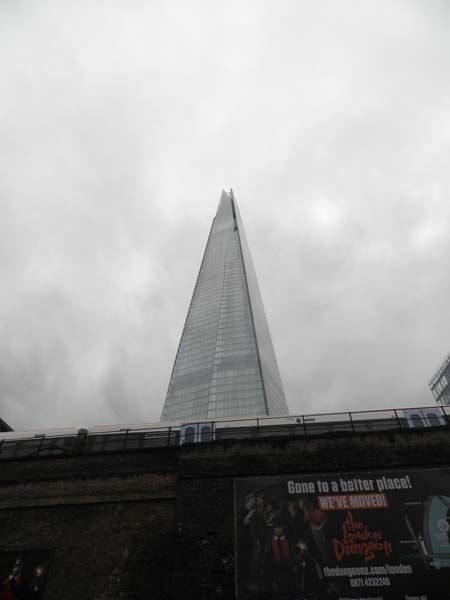 Guide: This is The Shard, where the apartments cost up to £50 million. I have an apartment there, you're all invited, and you must bring a bottle of champagne and £1 million each.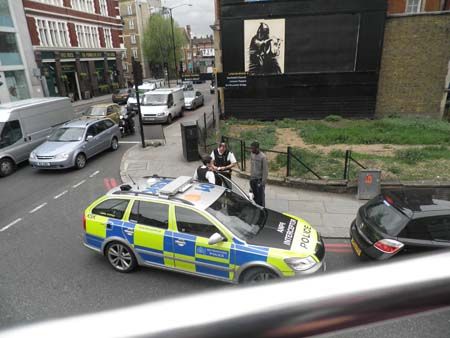 Whoa, policemen at work! OAO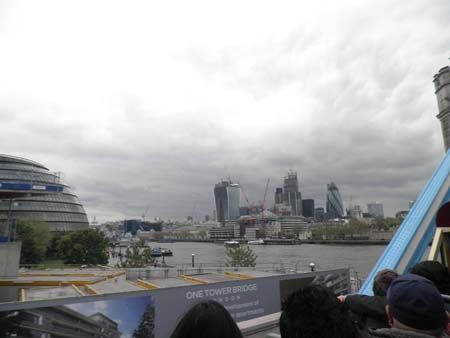 Guide: On your left is City Hall. The glass windows represent government transparency. Two weeks later they installed blinds.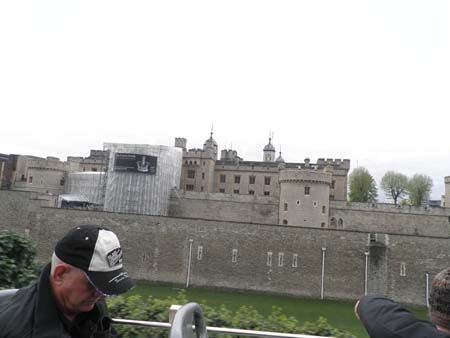 Guide: Legend says that if the ravens leave the Tower of London, the city will fall. Since we're such optimistic people we clipped their wings so they can't fly away.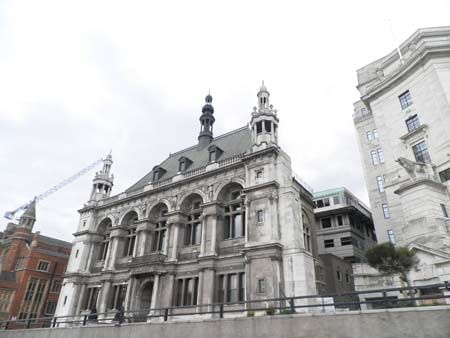 Seriously, this city has a problem with random lovely architecture.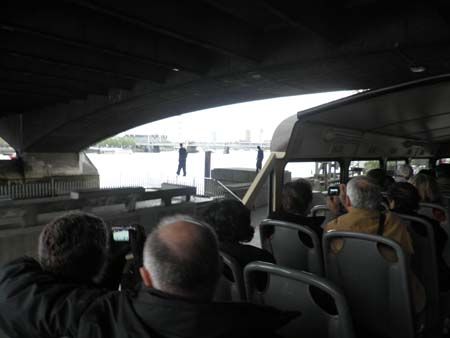 Guide: Here we have kids practicing parkour. Sometimes they fall into the river. Bloody kids.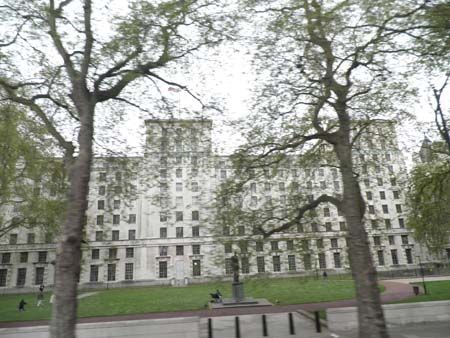 This is fake MI6, used in the James Bond movies.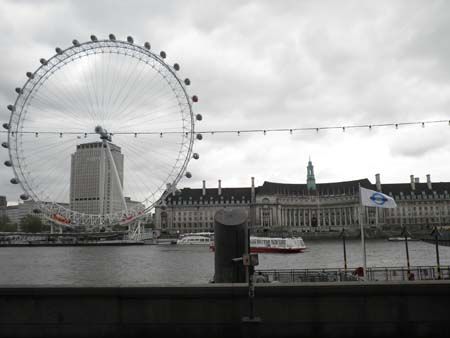 Here is the London Eye. When I was riding this bus, they may have been filming Sherlock there. GAH.
Here's Tower Bridge, history, dead ghosts, and all.
We got out of the bus to go look at Westminster Abbey. Have a Ben on the way.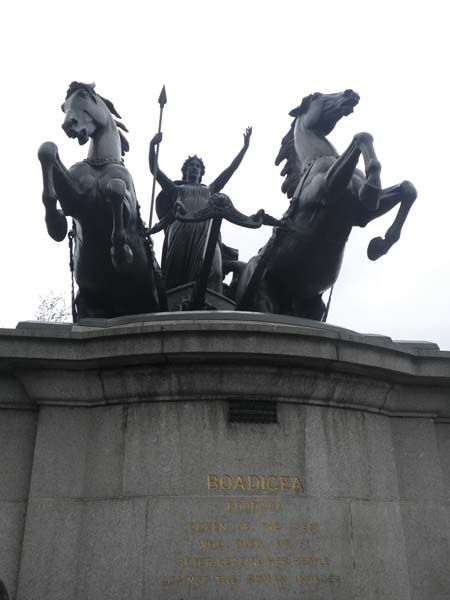 And an early angry lady.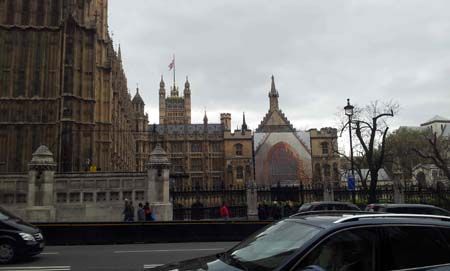 Parliament was undergoing some renovation, and a lot of these places have facades which sometimes look real until you do a double take. The effort to ensure it looks like the original is hilarious.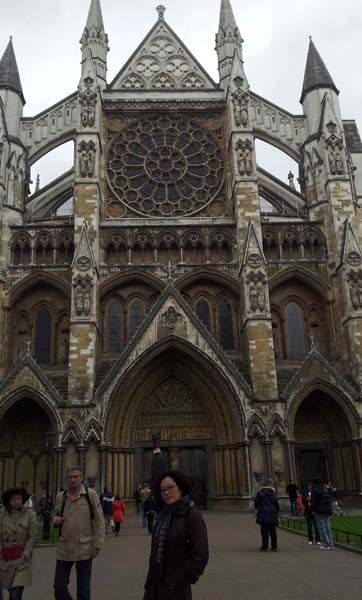 Heeere's Westminster Abbey! But it's already closed. :(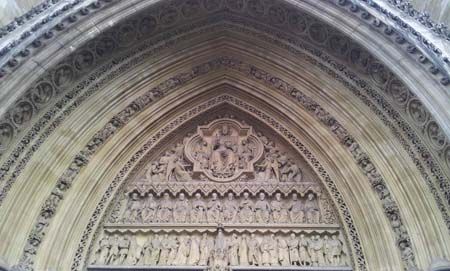 Oh my god. The individual carvings. That gothic architecture. Just. A minute. Please. Gasp.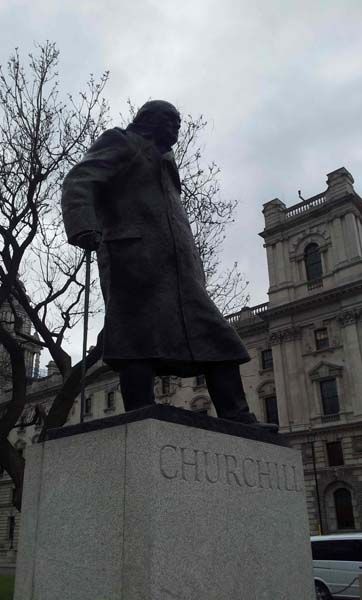 Angry Churchill breaks my reverie, and we hop back onto the sightseeining bus.
Have the almost!Sherlock skyline.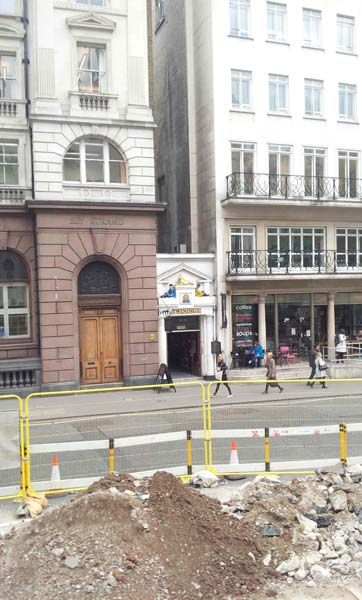 London looking like Malaysia #4: Roadworks in the middle of the city!
I saw this limping guy and girl, and thought it was cute.
People having a pint in front of the Punch Tavern, where the magazine Punch started.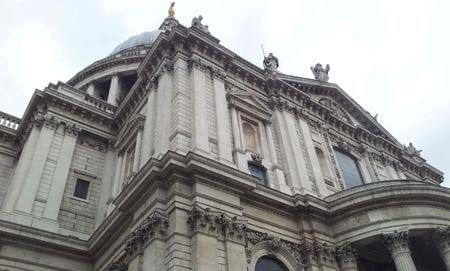 This is the best pic of St Paul's Cathedral I could get. Someday I shall return and photograph the HELL out of it!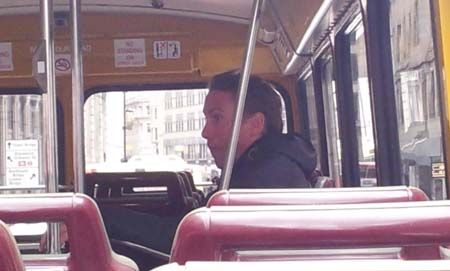 Our guide this round was funny and rather cute too!
It was already around 5 at this point, and you don't notice it in the pics but actually we had to double around St Paul's Cathedral to get to London Bridge because we were meeting Denesh (our secondary school classmate) at the London Bridge Tube Station. It was a lovely reunion, especially between Doris & Denesh as they haven't seen each other for 13 years.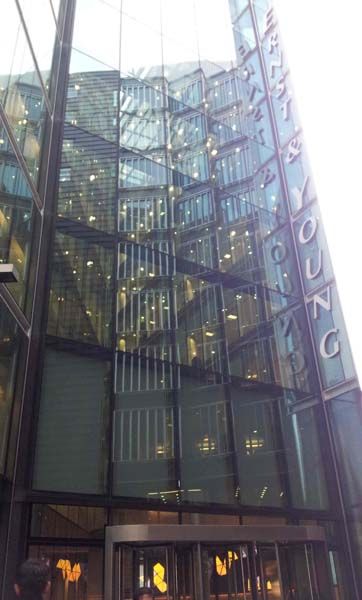 The first thing Denesh did was take us to his workplace!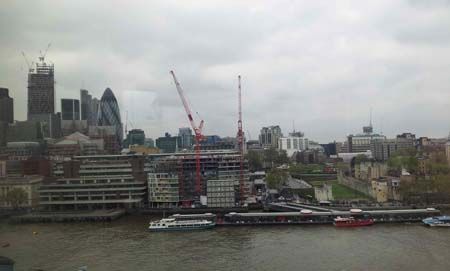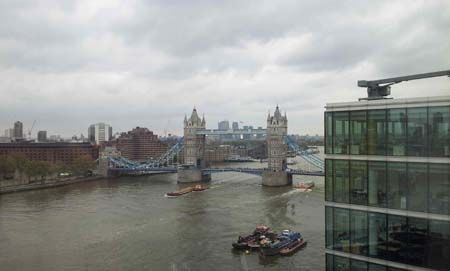 And take us to the 9th floor of his OFFICE to show us the scenery!
We never really had a school shot, so better now than never.
Lookit all that GLASS. London LOVES their glass. God forbid if there was a sonic boom that smashed ALL the glass in the city, it would be an epic glass shower!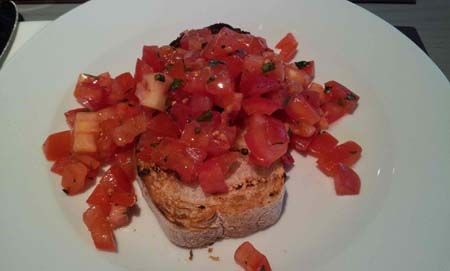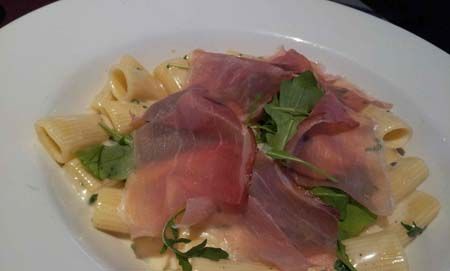 Denesh took us to an Italian place called Strada near his office for dinner. Had a bruschetta and Rigatoni Speck, which is rigatoni and thinly-sliced ham. He also paid for dinner, the high-flying jet-setting mortgage-paying wife-seeking dear. <3 After a lovely chat I suggested he pay my mum a visit at the hotel, and he agreed to it after he dumped his bags at home.
So OF COURSE we followed!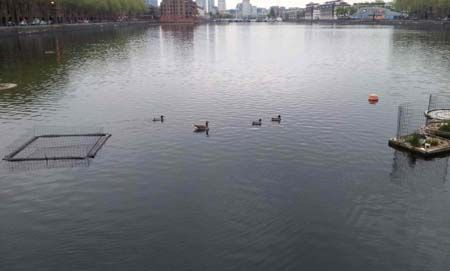 This is Canary Wharf, a place with DUUUUUUUCKSSSSS!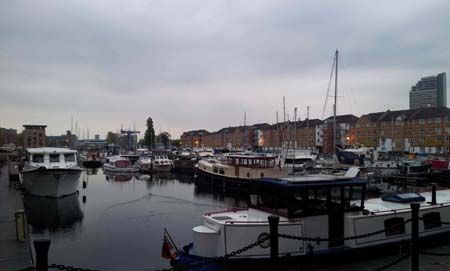 And boats, of course.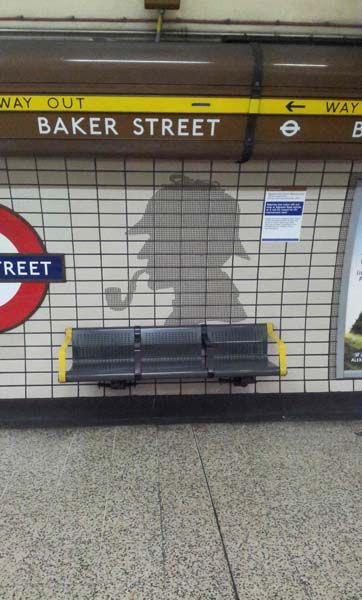 We took the Tube back to Baker Street then change trains to Paddington, and this silhouette was too good to pass up. He met my mum, they had a nice chat about finding a wife and how he's not a skinny scrawny lanky guy anymore and then everyone went back. It was a bit too rushed for my own taste, but as dad says, this is just a sampler trip.
I AM gonna return to London.
And that's it for today! The next update will be a day or two late as I'll be on night call, but don't worry, the picture flood will go downhill after the next entry!
Next up: Oxford/Cambridge, and what London Does When There's A Demonstration (Hint: They don't freak out).