dmjewelle
After getting picture fatigue from rereading my own blog posts, today I'm going to try something different and split the day into two parts. That way you won't get sick of looking at pics and I won't look like the obnoxious neighbour who won't stop showing you pictures.
Today we are going to Oxford & Cambridge!
Why? There's nothing to see, you say.
Because if I can never study there I might as well traipse around and yearn like the failure I am meant to be.
The guy who came to take us to Victoria Coach Station looked like a normal English guy, complete with trillby hat and olive-green duffel coat. He certainly reminded me of a Monty Python guy but not John Cleese.
Tish was our guide again! Yaay! Remember her from Day 4? No? Aw. :(
Our mini coach had 14 people - an Indian father with his 2 kids, an old couple from North Carolina who reminded me of Leslie Nielsen, and two Brazillian families.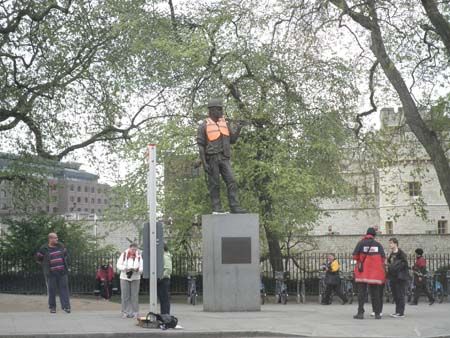 I don't know if this was intentional.
Unlike the last few days it was harder to drive around London - there was a scheduled street demonstration around Westminster about protesting the privatisation of the NHS and many main roads were closed to accomodate it. Furthermore certain train lines were having maintenance done that weekend so if you were going to Heathrow by train, I hope your luggage is very light because the station's suggestions require no less than 3 train changes.
Back to the travelling, Tish decided to hit up Cambridge first because it's further and thus the trip back to London from Oxford will be shorter.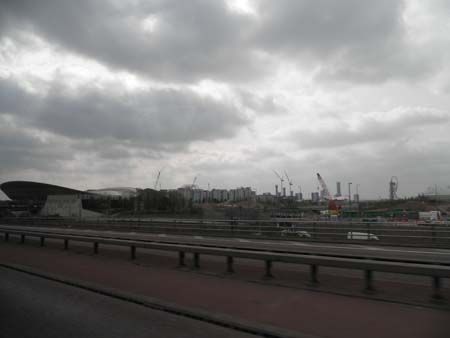 This is the remnants of the Olympic Park. They'll be redeveloping the area and building nice apartments and stuff and there's a Westfield there so there's still hope to buy property in UK if you've got the money.
And then it's highway for 2 HOURS. Imagine starting your 9.30AM tour with a good long nap, that should freshen you up for the walking!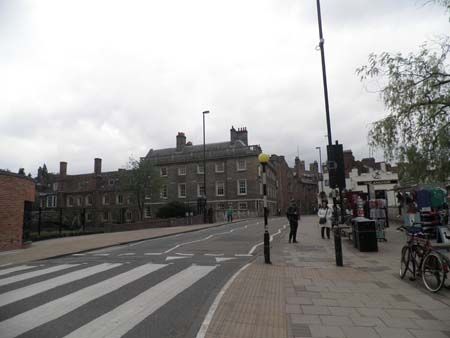 Welp, here we are at Cambridge!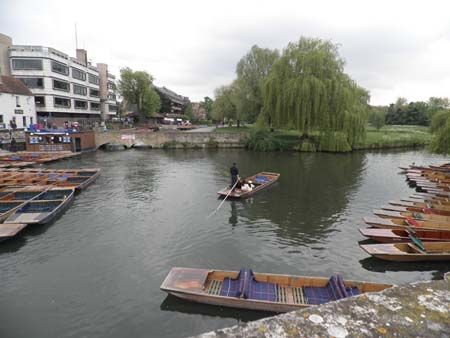 Cambridge is famous for their boat rides, picnic lunch not included. The river bed is filled with gravel to prevent awkward boating accidents.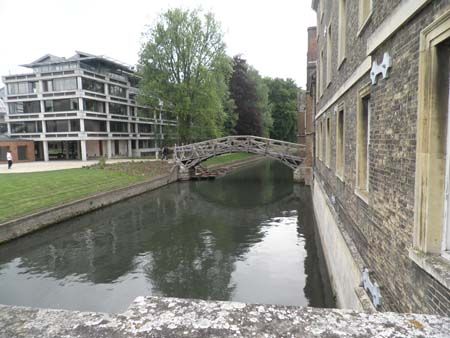 This is a 'mathematical bridge'. Apparently the bridge was built without rivets and nails (like Minangkabau houses), but after they took it apart to study the bridge they realised they couldn't reassemble the bridge and the only way to put it back was with....rivets and nails. Good going, Cambridge!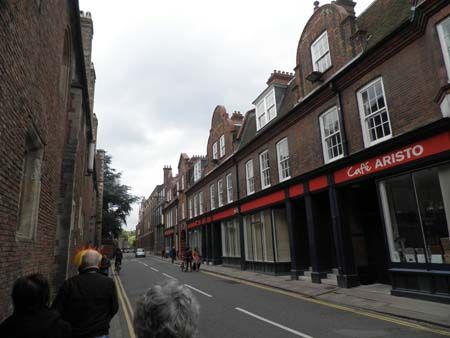 This is a walking tour, so let's start walking! If you get lost, look out for the 'sunny' umbrella!
Colleges!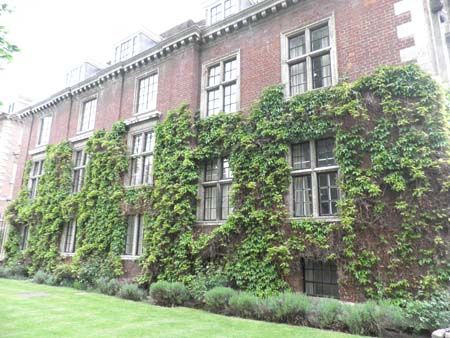 Vines!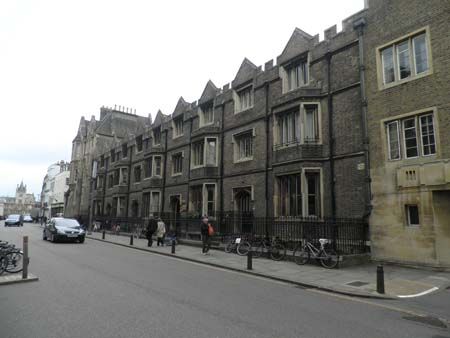 Possibly student accomodations!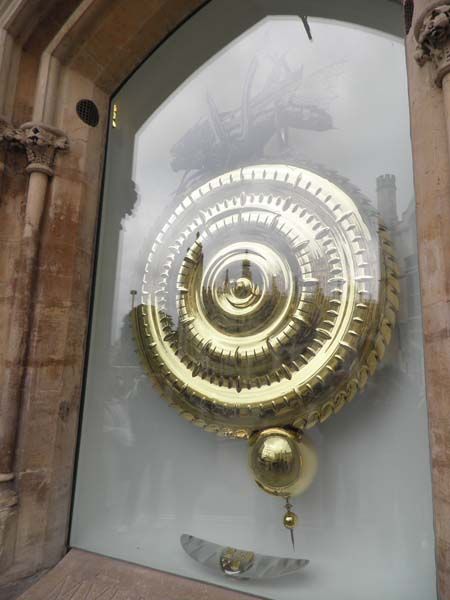 This is the Corpus Clock with a time devourer known as a chronophage (and not called Lavos as some of us think). It is accurate ONCE every 5 minutes, and indicates the time with a single blue LED light. If you can't see it, I hope you have a proper watch.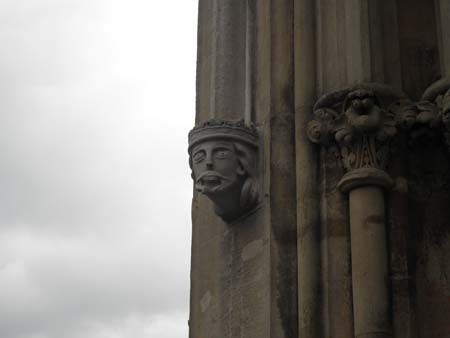 Cambridge had quite a few of these gargoyle heads. You want terrifying, poke holes in your head's eyes and BAM instant creepiness! Install lights for better effect!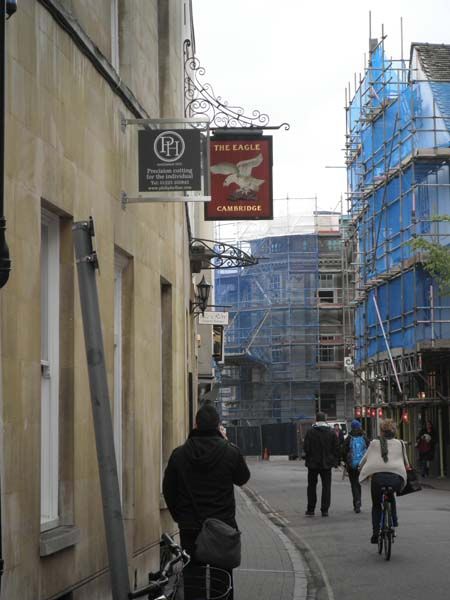 This is the pub where Watson and Crick discovered DNA. I am told their report is a real funny read.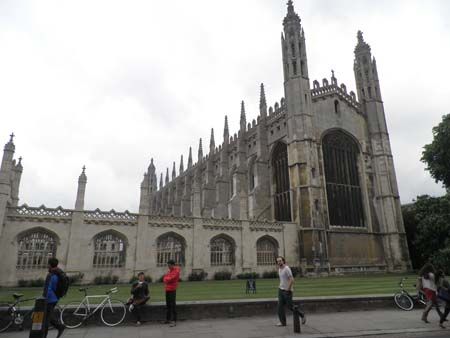 Here's the outside of King's College and its student life. The Indian father made sure his kids got a good look at the building. Mum says he's probably telling them "THIS IS WHERE YOU STILL STUDY BECAUSE I SAY SO" too.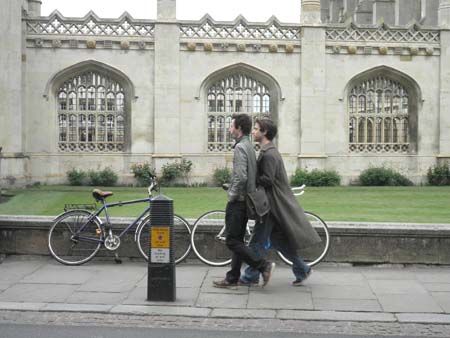 I liked his coat. .__.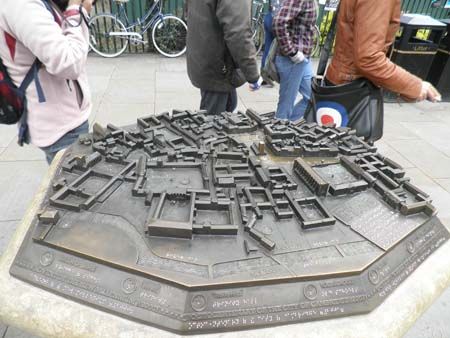 Scale model of Cambridge, also in braille. It has a marker to indicate your position, but unfortunately it doesn't blink or move or do anything fancy. Since they put this up to celebrate Cambridge's 800th year, perhaps 800 years from now they'll implement the hologram map.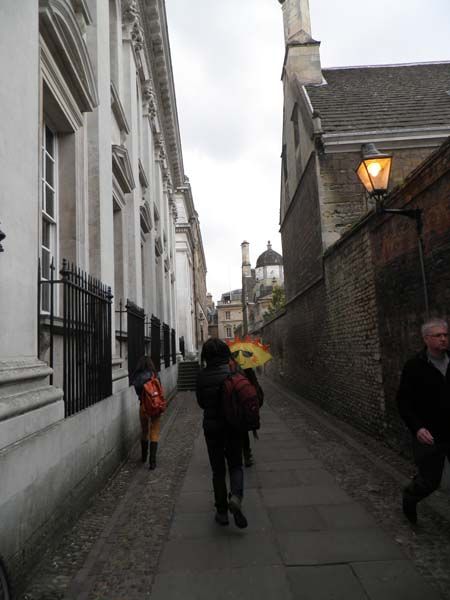 We walked through an alley to King's College Chapel.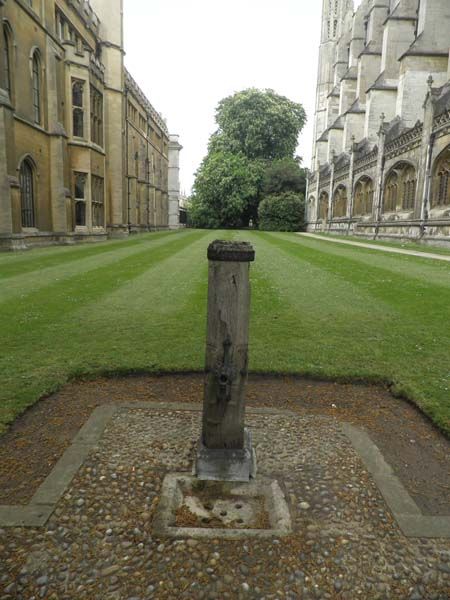 This looks like an ancient water spout/drinking fountain. I wasn't given enough time to test it (and they probably wouldn't let me). :(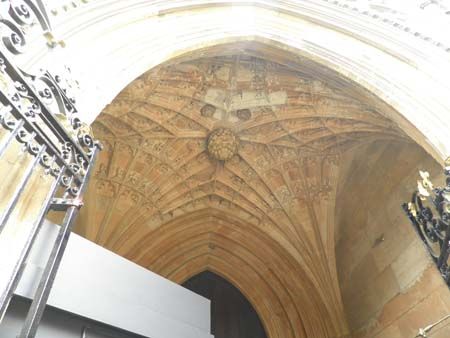 Everyone will have seen the entrance to King's College Chapel - I'm going to show you the ceiling because it's so high up you probably didn't take a look at it.
...That is a *really* *nice* ceiling.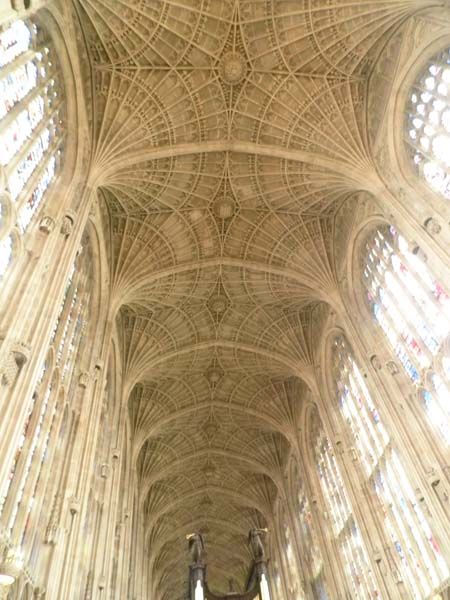 Let's look at it again!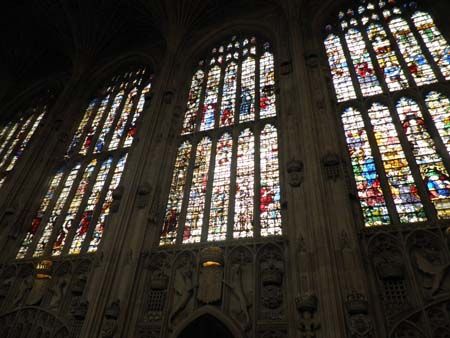 Let's admire the stained glass picture story while we're at it! The stained glass (which runs all AROUND the CHAPEL) not only tells stories from the bible, but the scenes are arranged "old testament prediction -> new testament fulfilment" from up to down. There was a book detailing the scene in each panel ALL AROUND THE CHAPEL, but studying each panel would take about 2-3 hours and I only had an hour. Totally not following a tour next time.
I wonder how old is this graffiti, I would be very disappointed if it was less than 70 years.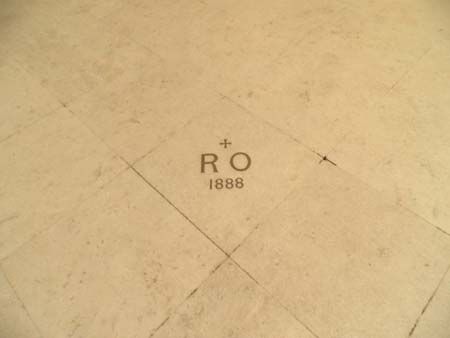 Mysterious floor tiles and no guide to explain it.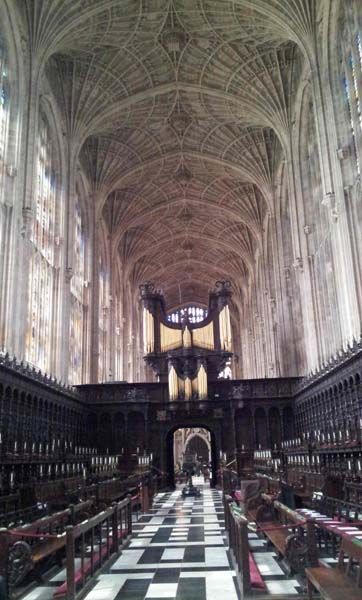 Past the organ is the other half of the chapel. People sometimes sit there and pray, and then I start feeling bad about taking pictures. The beauty of the chapel's architecture immediately cures me of it.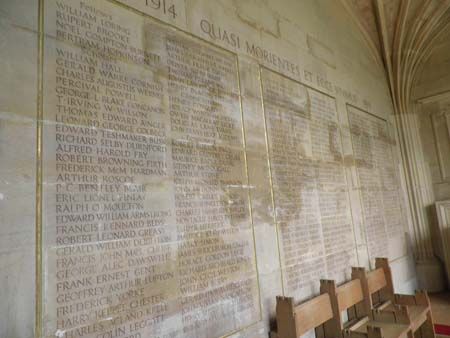 A list of Cambridge alumni who died in WWI. It's double the size of WW2's.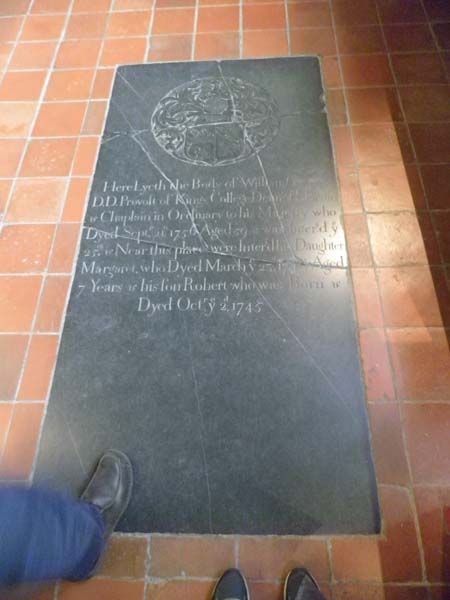 Holy carp, there's a grave on the floor! People, stop stepping on it! >_<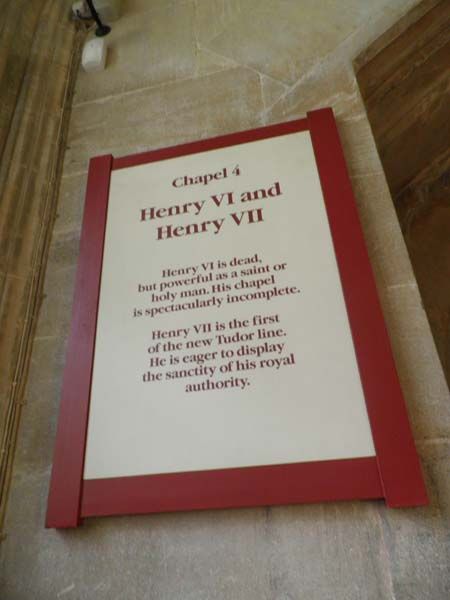 The side chapel is also a museum about how the chapel was built, how they made the stained glass, artifacts they found while excavating the chapel, and a section about King Henry VI and his spectacularly incomplete chapel and how invoking his name at the time caused miracles. People rising from the dead and all that.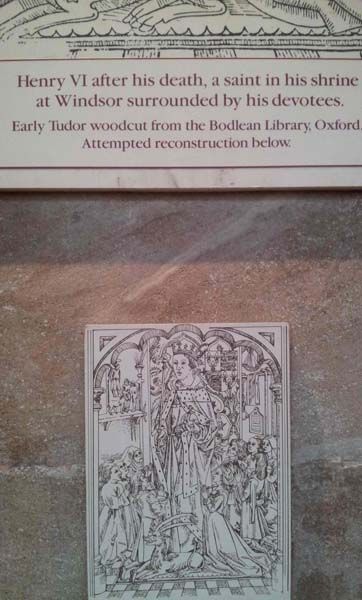 He also looks like Benedict Cumberbatch. England, take note when you adapt the Shakespearean play.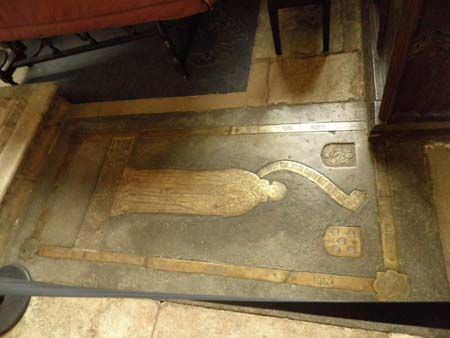 In a side chapel there was a sign that said "DON'T STEP ON THE BRASS", and I'm thinking if they didn't want anyone to step on it, perhaps they should consider not putting it on the floor...silly ancient people.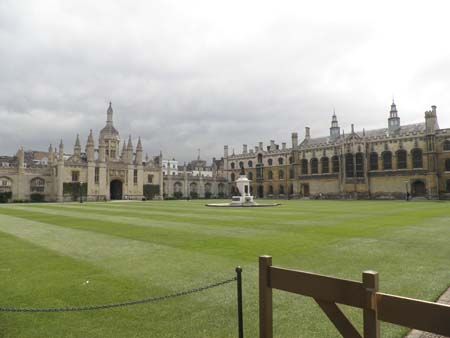 Exited chapel. An Indian man asked for help to take his photo, which I obliged. He asked me where I was from, I said Malaysia, I asked where HE came from, and in true Lat story form, he came from Damansara Utama. We then laughed about the irony of flying 10,000km to bump into each other.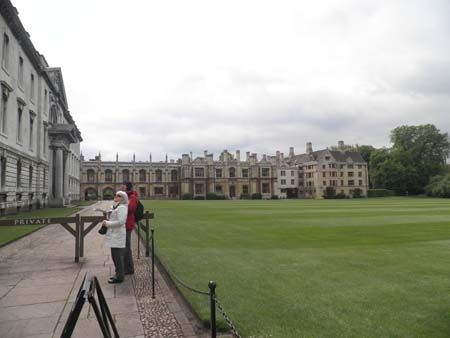 It's always nice to see people colder than me.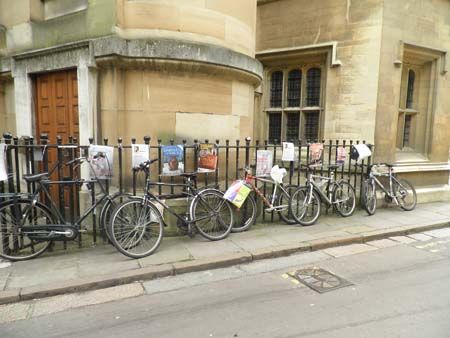 Cambridge is a cyclist's town. Everyone owns a bike and they share roads with cars. They can also cycle on cobblestone streets, so nowhere in Cambridge is safe to walk. Here we see some parked bicycles next to a library. Cambridge is also very open about their arts events - all those posters? Upcoming performances. Music recitals, comedy nights, plays, dances...it's no wonder people like Hugh Laurie went to study something and graduated saying "I WANT TO BE AN ACTOR" with all those extracurricular activities.

Cambridge is also a market town - so many alleys, not enough time. :( When I went there children were carrying Gruffalo things, maybe there was a Gruffalo carnival going on in town, but I didn't have enough time to check it out.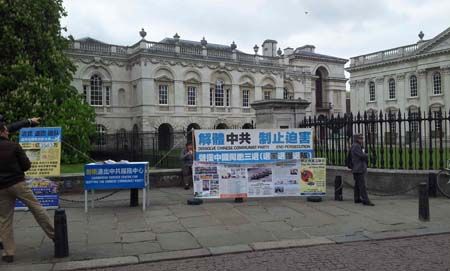 Across the street someone put up a massive banner protesting communism in China. I took a picture, turned around, and suddenly a tiny Chinese lady was shoving Chinese brochures in my face and speaking in mandarin. Only when I spoke in English she asked, "You...are not Chinese?" I said no, and she apologised and left. I don't understand: you put up a massive banner to educate people on the situation in China, write everything in Chinese and then...what? Shove them into the face of every Chinese person you see? Everyone would support your cause, but the China tourists who come to Cambridge? I doubt they care considering I saw one Chinese tourist happily blaring Mandopop on his portable radio. It was so loud WE heard it 10 meters away. 1 in 15 China tourists might take your brochure and mull on it, but I can't help think they're not reaching a bigger audience - I told her I wasn't Chinese, she took me at face value and didn't push the matter. I would've read it if it was in English, and I can't be the only one who thinks that way.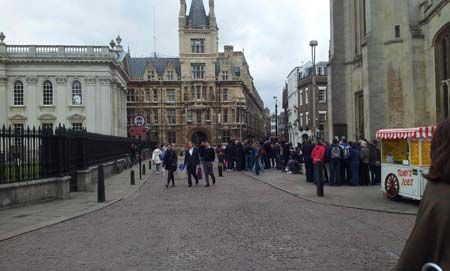 It seems like a nice place to live, but all that tourism would be annoying. 8P Here, have a busker: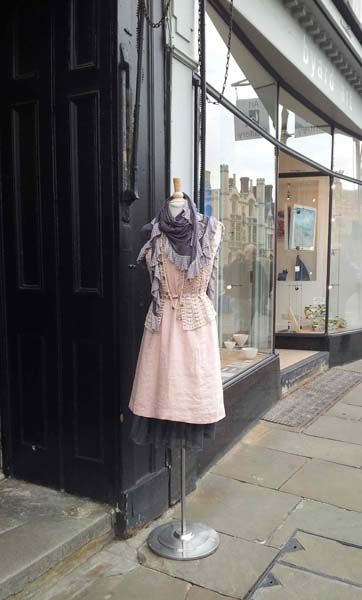 One thing I REALLY like about UK is how they don't care if you take pics of their window display. I took this picture, the shopkeeper saw me and I immediately apologised, but she just waved me off and said carry on. In Tokyo, the shopkeeper would dash out with a samurai sword and politely ask me to delete the pic. If you put it out on a window, you would want to share it with the world otherwise why bother having window displays?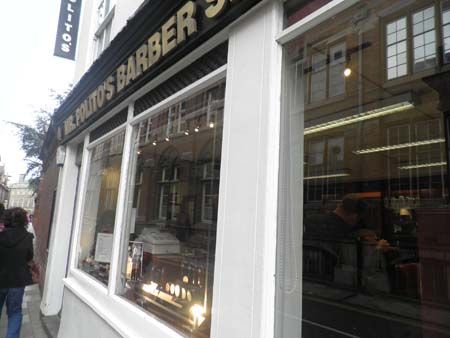 This is one swanky-looking barber shop with prices to match.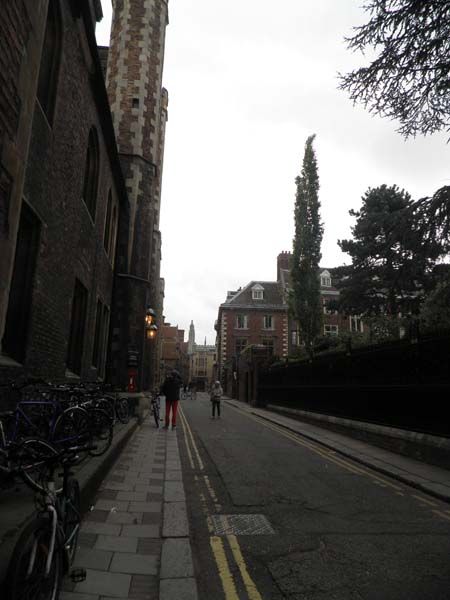 The hour was up, and it was time to return to the bus.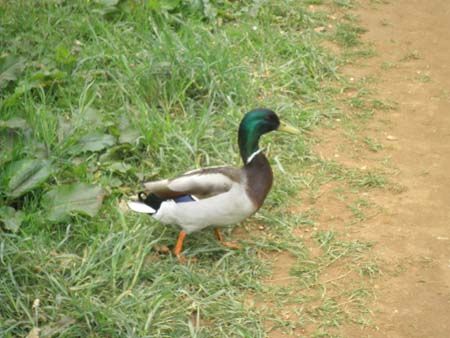 While waiting I saw this duck! So fearless, not even two Indian kids chasing it across a field made it fly!
Seems the bus hit a snag and it took some time for the driver (her name was Olivia) to retrieve it, but now all was well and we were off to Oxford. We paid for a lunch pack and got:
- An apple
- A Ploughman's lunch sandwich (pickles, cheese, lettuce, mustard, no meat :( )
- Crisps, as they call potato chips in UK!
- Bottle of water
- RED WINE WTF.
I still have the bottle of wine. I'll drink it....someday. What? >_>
Thank you for slogging through Part 1! Have a nice evening!